Portable GC S-Chrome is a compact instrument for sulfur-containing compounds analysis in various media for stationary and mobile laboratories.
Application
Measure hydrogen sulfide and mercaptan mass content, with calculation of mercaptan and total sulfur content according to GOST R 53367-2009 in natural gas;
Sulfur compounds analysis, including hydrogen sulfide in high concentrations, in associated petroleum gas;
Hydrogen sulfide and mercaptan content analysis in oil and petroleum products, with direct feed of liquid sample into evaporator;
Sulfur compounds content analysis in liquefied hydrocarbon gases with dosing with an optional liquid sampling valve.
Structural features
Electrochemical detector (ECD), highly sensitive and selective to sulfur compounds;
Special input unit with the same dividing ratio for gas and liquid samples;
Only air as carrier gas;
Integrated carrier gas flow rate measurement device at detector and column discharge (independent gas flow rate setup).
Benefits
Analysis of H2S in high concentrations due to a tenfold detector signal attenuation in predetermined chromatogram parts;
Short analysis duration (15 minutes to n-butyl mercaptan);
Operation is controlled by Analyzer Software installed on external PC;
High sensitivity with detection limit from 0.02 mg/m3 (in gaseous phase);
No signal "damping" from hydrocarbons;
Compact size and low power consumption;
Low cost of ownership.
Certification and test results provided
S-Chrome chromatograph is listed in the National Register of Measuring Instruments;
This chromatograph has been successfully tested in PAO Gazprom, CJSC NNK SANORS, VNIIUS and VNIINP.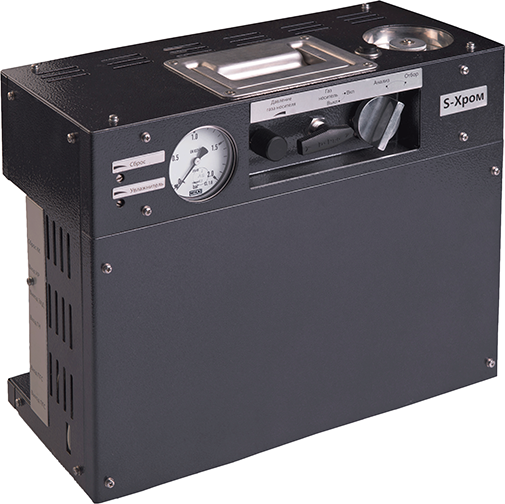 Option: independent gas feed from integrated microcompressor